Workshop and Conference Held on Damon's Philosophy, Clinical Practice and Evidence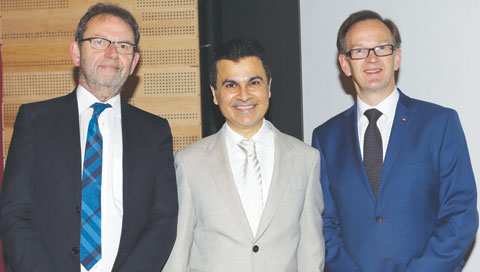 KUWAIT: The Quality Source Company held Damon Introductory and Damon Advance sessions by Dr Richard Cure and Dr David Bearn on Thursday at the Crowne Plaza Hotel in Farwaniya.
The course was held for two days and explored Damon's philosophy, clinical practice and evidence. Dr Faraj Behbehani, CEO of Quality Source and an orthodontist consultant at Basma Dental Center, told Kuwait Times that the workshop highlights the development of the Damon System. "I founded Quality Source Medical Services in 2007 before establishing my clinic in 2009. The company is interested in taking international agencies with scientific importance in the field of dental products. One of the companies that we have contracted exclusively with is the American 'Ormco' company." He added that Ormco is specialised in the materials used in orthodontics. "They have a strategic product that was famous in the world of orthodontics, called Damon system, which has the self-linking feature".
Behbehani explained "When we move the teeth we slide it in the wire. If the amount of friction between orthodontics and the teeth was less, then the movement will be easier and the pain less. This system has existed for a long time and has been developed. I used it personally in Kuwait in 2007. The common name for this system is the quick orthodontic because it is easier than the regular one and saves approximately 6 months of treatment." He noted "The sessions will cover the scientific side of Damon system where 85 people were registered, about 80 percent of whom specialised in orthodontics in Kuwait."
The first day session was titled 'Understanding Damon: Where Biology meets Mechanics' and was presented by the two professors from UK. Bearn who is a professor of Orthodontics at the University of Dundee, examiner for intercollegiate membership in orthodontics and lead researcher on Ormco Clinical Trial. Alongside him was Dr Cure, head of dentistry studies, director of orthodontics at the University of Warwick.
The Damon System is a consumer branding approach to help you better connect with patients and capitalize on their growing demand for faster, aesthetically-pleasing orthodontic treatment that delivers remarkable results and a new, beautiful smile.
The system is not just about revolutionary braces and wires, it's a whole new way of treating patients. Traditional treatment often requires removal of healthy teeth and the use of palatal expanders to make space. This approach is often uncomfortable, takes longer, and can leave a narrower arch and a flat profile. Damon smiles are full, natural 10-tooth smiles achieved with light biologically-sensible forces, and are specifically designed to improve the overall facial result of each patient where Damon braces use a slide mechanism to hold the wire, which allows teeth to move more freely, quickly and comfortably. Damon braces are designed to be discreet, comfortable and easy to keep clean. Without the elastic ties which attract and collect plaque, Damon braces make dental hygiene easy during treatment. Plus the Damon System is available in clear brackets for those image conscious patients.