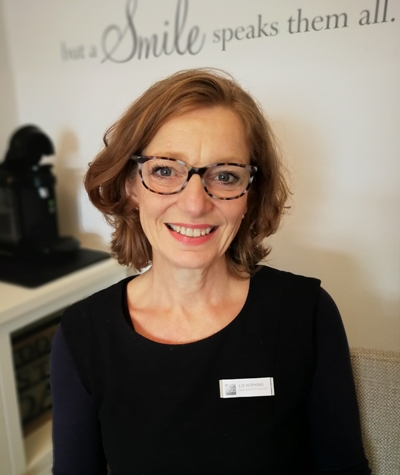 Liz Hopkins
BDS, FDSRCSEd, DDORCPS, PGCertMedEd, FHEA, FDTFEd
Registered Specialist in Orthodontics and Director of Dental Team Training Ltd
Director of Orthodontic Therapy, University of Warwick
Module Leader of Clinical Practice, MSc Orthodontics, University of Warwick,
Director of Dental Team Training
Fellow of the Higher Education Academy
Fellow of the Faculty of Dental Trainers
GDC 54777
Liz graduated as a Dentist from The University of Birmingham in 1980; and undertook 5 years specialist training at The Birmingham Dental Hospital, Burton on Trent District and General Hospitals in the Oral and Maxillofacial departments. She secured a post as Registrar at the Birmingham Children's Hospital and attained the Fellowship in Dental Surgery from The Royal College of Surgeons in Edinburgh in 1984. Undertaking further specialised training she achieved her specialist qualification in Orthodontics from the Royal College of Physicians and Surgeons of Glasgow in 1986.
Taking over the Newton Abbot specialist orthodontic practice whilst still in her 20's has enabled her to spend 30 years further developing the business. She has relocated the practice three times, all within the Devon Square area, to allow for expansion and improved facilities, and to be able to adapt the delivery of patient care in line with current needs. Locally she is involved in orthodontic provision of care with South Devon's Local Orthodontic Committee, Managed Clinical Network and is a member of the Peninsula Orthodontic Study Group. She is the Devon representative on the South West Regional MCN.
She is also a member of the Orthodontic Specialists Group of British Orthodontic Society, an International Member of the American Association of Orthodontists and the World Federation of Orthodontists, British Lingual Orthodontic Society and British Dental Association. She has a strong ongoing commitment to continuing professional development worldwide to ensure provision of the most advanced Orthodontic treatment available. Liz is Director of Orthodontic Therapy, University of Warwick, Module Lead MSc in Orthodontics University of Warwick, Fellow of the Higher Education Academy and Fellow of the Faculty of Dental Trainers Royal College of Surgeons of Edinburgh. She is involved in training and integration of education for the extended duty orthodontic team. Through the highest standards of training her dedicated, experienced team will ensure the patient orthodontic treatment journey is exceptional. DSO has achieved BDA good practice and Investors in People recognition as a mark of its commitment to such training and development. Liz works hard to ensure the best standard of care for using the latest technological advances in treatment and is proud to be a recognised as a Damon system specialist, Consultant at Ormco, lecturing both in the UK and abroad on its exciting clinical advances.
View Liz Hopkins on LinkedIn
"I am over the moon that I have passed and all my dreams have come true. I proved to everyone , including myself that I could do it."

"This is my first course since qualifying as a dental nurse – wish I had done this sooner! I have learnt much more than I thought possible. Tutors are excellent and course very well led. Thank you!"

"Very enjoyable, brilliant teaching skills and I've learned a lot about fluoride that i wasn't aware of! I actually can't wait to be back next week!"

Get in touch
Dental Team Training have two main centres, one in Leamington Spa, Warwickshire and the other in Newton Abbot, Devon, but we deliver training and education worldwide.