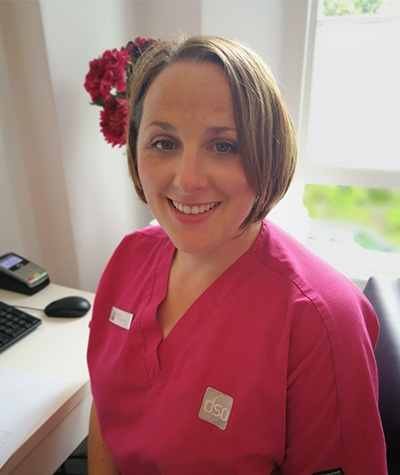 Carly Coombes
Practice Coordinator and Orthodontic Nurse
GDC 129182
Carly is the practice coordinator at DSO and also has an administrative role within DTT. Wonderfully patient and a great listener, she started in 1999 as a trainee dental nurse. Carly has since developed her nursing qualifications to include ortho nursing and dental radiology. This helps her support students with DTT.
Carly counts herself as one of the naughty patients who don't listen to advice- she had to have a 2nd course of fixed braces 3 years ago, following having treatment as a teenager and not wearing her retainers!
If you like a good pudding you're in good hands with Carly- she would love to appear on the Great British Bake Off!
View Carly Coombes on LinkedIn
"I am over the moon that I have passed and all my dreams have come true. I proved to everyone , including myself that I could do it."

"This is my first course since qualifying as a dental nurse – wish I had done this sooner! I have learnt much more than I thought possible. Tutors are excellent and course very well led. Thank you!"

"Very enjoyable, brilliant teaching skills and I've learned a lot about fluoride that i wasn't aware of! I actually can't wait to be back next week!"

Get in touch
Dental Team Training have two main centres, one in Leamington Spa, Warwickshire and the other in Newton Abbot, Devon, but we deliver training and education worldwide.