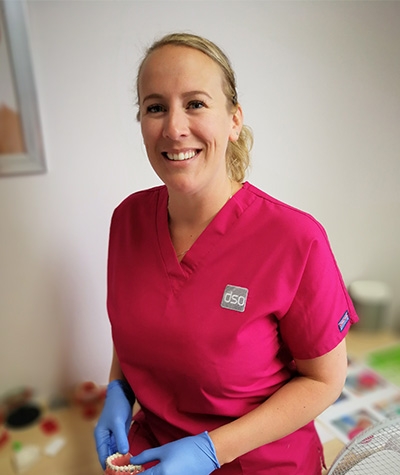 Kelly Brown
Orthodontic Therapist
GDC 129188
Kelly began her DSO journey in 2001, working on both the clinical floor as well as on reception. She progressed her qualifications from Dental Nursing through to Orthodontic Therapy. Her key areas are to fit, adjust and remove both fixed and removable appliances. Kelly's role includes taking impressions, producing radiographs, applying fluoride and removing sutures and she regularly supports DTT students by demonstrating and explaining these processes.
Kelly has personally tried out a variety of orthodontic appliances, so can give relatable first hand knowledge and assurance both to those starting their orthodontic treatment and trainee roles. Her greatest satisfaction is to watch her patients self confidence grow as they achieve their smile makeover and this enthusiasm is transferred to students.
At home Kelly loves to spend time with her daughter, relaxes by swimming and unleashes her artistic side with a spot of painting.
View Kelly Brown on LinkedIn
"I am over the moon that I have passed and all my dreams have come true. I proved to everyone , including myself that I could do it."

"This is my first course since qualifying as a dental nurse – wish I had done this sooner! I have learnt much more than I thought possible. Tutors are excellent and course very well led. Thank you!"

"Very enjoyable, brilliant teaching skills and I've learned a lot about fluoride that i wasn't aware of! I actually can't wait to be back next week!"

Get in touch
Dental Team Training have two main centres, one in Leamington Spa, Warwickshire and the other in Newton Abbot, Devon, but we deliver training and education worldwide.