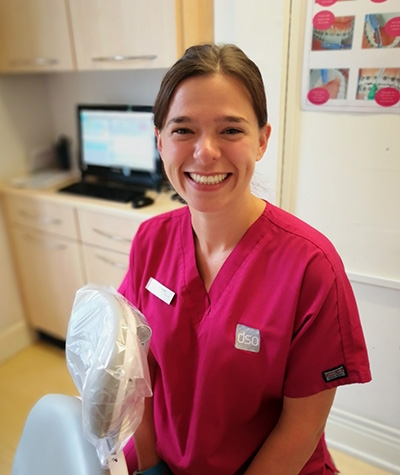 Lorraine Burton
Orthodontic Therapist
GDC 150287

Lorraine has been at DTT since 2008. She joined as a qualified Dental Nurse and progressed into ortho nursing. Lorraine qualified as an Orthodontic Therapist in 2013. She has evolved into a new role in education as part of the training at OTT.
Lorraine has had treatment herself at DSO, having had a fixed brace using Insignia. She understands the patient journey better due to this, remembering it is hard at the start, but then how quickly it became part of her. She finds this experience invaluable when supporting trainee orthodontic nurses and orthodontic therapists.
Lorraine has 2 small boys which keep her active, but with any energy left over she also loves going to fitness classes and playing rounders.
View Lorraine Burton on LinkedIn
"I am over the moon that I have passed and all my dreams have come true. I proved to everyone , including myself that I could do it."

"This is my first course since qualifying as a dental nurse – wish I had done this sooner! I have learnt much more than I thought possible. Tutors are excellent and course very well led. Thank you!"

"Very enjoyable, brilliant teaching skills and I've learned a lot about fluoride that i wasn't aware of! I actually can't wait to be back next week!"

Get in touch
Dental Team Training have two main centres, one in Leamington Spa, Warwickshire and the other in Newton Abbot, Devon, but we deliver training and education worldwide.